In Singapore, one of the first places hit by coronavirus COVID-19, detectives are tracking down potential positive cases to try to stay one step ahead of the virus. How did they do this and is it too late for the rest of the world?
In mid-January, a group of 20 tourists from the Chinese city of Guangxi arrived in Singapore for Chinese New Year. They visited some of its most glamorous sights.
Also on their itinerary was a non-descript traditional Chinese medicine shop, selling crocodile oil and herbal products. The shop is popular with mainland tourists.
They were served by a dedicated saleswoman who showed them various products, even massaging medicated oil on their arms. The Chinese group finished the tour and went home.
But they had left something behind.
Medicine shop
At that point, the 18 coronavirus cases in Singapore had only been found in arrivals from mainland China.
But on 4 February, Singapore's government reported that the virus had spread into the local community – and the Yong Thai Hang Chinese medicine shop was its first cluster, with a local tour guide and that enthusiastic saleswoman falling ill.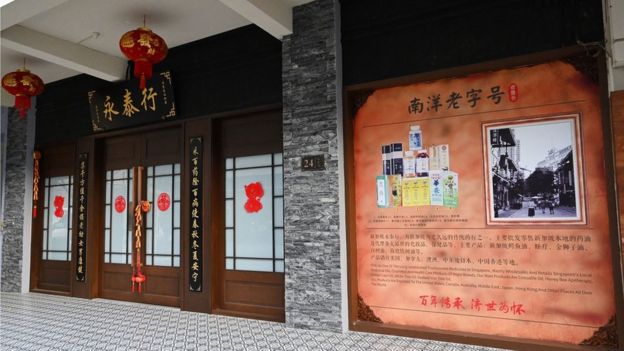 From that one shopping trip, nine people became infected, including the saleswoman's husband, her six-month-old baby and their Indonesian domestic helper. Two other staff members also caught it.
They have now recovered, but it could have been much worse if Singapore didn't have a sophisticated and extensive contact tracing programme, which follows the chain of the virus from one person to the next, identifying and isolating those people – and all their close contacts – before they can spread the virus further.
"We would have ended up like Wuhan," says Leong Hoe Nam, an infectious diseases specialist at the Mount Elizabeth Novena hospital and a Singapore government advisor.
"The hospitals would be overwhelmed."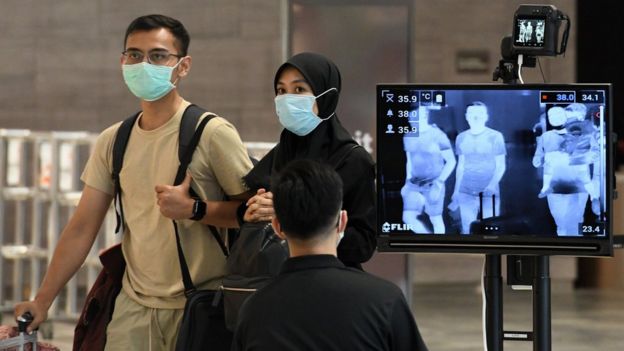 As of 16 March, Singapore had confirmed 243 cases and no deaths. For about 40% of those people, the first indication they had was the health ministry telling them they needed to be tested and isolated.
In total, 6,000 people have been contact traced to date, using a combination of CCTV footage, police investigation and old fashioned, labour-intensive detective work – which often starts with a simple telephone call.
A call from a stranger
It was one of those calls on a sunny Saturday afternoon during a barbecue that led to Singapore-based British yoga teacher Melissa (not her real name) learning she was at risk of contracting the virus.
"It was surreal," she says, describing the moment an unknown number flashed up on her phone.
"They asked 'were you in a taxi at 18:47 on Wednesday?' It was very precise. I guess I panicked a bit, I couldn't think straight."
Melissa eventually remembered that she was in that taxi – and later when she looked at her taxi app realised it was a trip that took just six minutes.
To date, she doesn't know whether it was the driver or another passenger who was infected.
All she knows is that it was an officer at Singapore's health ministry that made the phone call, and told her that she needed to stay at home and be quarantined.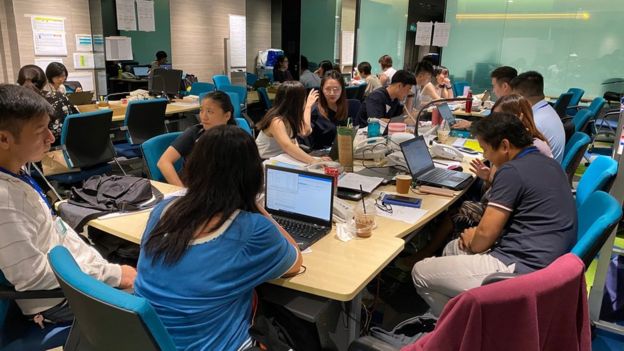 The next day Melissa found out just how serious the officials were. Three people turned up at her door, wearing jackets and surgical masks.
"It was a bit like out of a film," she says. "They gave me a contract – the quarantine order – it says you cannot go outside your home otherwise it's a fine and jail time. It is a legal document.
"They make it very clear that you cannot leave the house. And I knew I wouldn't break it. I know that I live in a place where you do what you're told."
Two weeks later, Melissa had shown no symptoms of Covid-19 and could leave her house.
In Singapore, most people know somebody who has been contact traced and that is part of the point. With almost 8,000 people per sq km it's one of the most densely populated countries on Earth. An unidentified infected cluster could spread the disease rapidly.
The potential strain on the economy and health service could be huge. Singapore had little choice but to try to find and isolate everybody at risk.
© 2020, Our9Ja Trending News. All rights reserved. On republishing this post you must provide link to original post
Subscribe To Our WhatsApp Group For Latest News Directly To Your Mobile