The number of coronavirus COVID-19 deaths in the UK has jumped by more than 100 in a day for the first time. The death toll has risen from 475 to 578, health officials have confirmed, with 11,658 confirmed cases.
The latest figures came after Chancellor Rishi Sunak unveiled an aid programme to help the self-employed.
People across the UK have taken part in a national applause of thanks for NHS workers and carers helping in the fight against coronavirus.
The Queen said the UK was "enormously thankful" for the commitment of all those working in science, health and the emergency and public services.
In a message on Instagram, she said: "We are enormously thankful for the expertise and commitment of our scientists, medical practitioners and emergency and public services."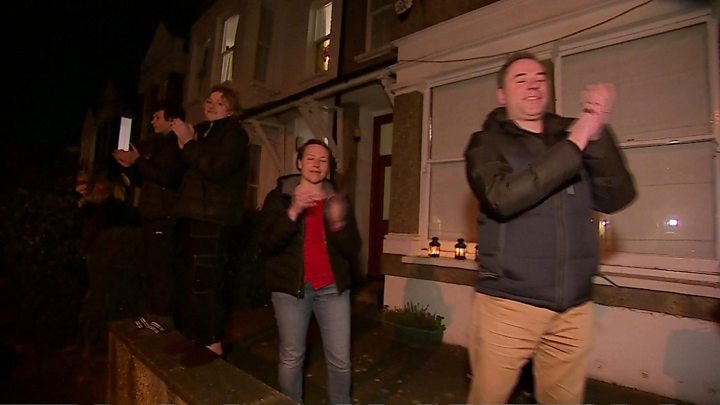 Thursday saw a change in the way NHS England and the Department of Health are reporting deaths.
The latest figures are for a 24-hour period, but Wednesday's were not – they were only for eight hours – from 0900 to 1700 on Tuesday 24 March.
Thursday's figures are for a full 24-hour period, from 1700 on Tuesday 24 March to 1700 on Wednesday 25 March.
So Wednesday's rise of 28 reported deaths and the 107 reported deaths on Thursday cannot be directly compared.
Earlier, a senior hospital figure warned that London hospitals are facing a "tsunami" of coronavirus cases and are beginning to run out of intensive care beds.
Chris Hopson of NHS Providers, which represents hospitals, said while critical care capacity had been expanded hospitals in the capital had seen an "explosion" in demand.
A third of the UK cases have been diagnosed in the city.
Meanwhile, in a further development, data collected via the NHS's 111 telephone service is to be mixed with other sources to help predict where ventilators, hospital beds and medical staff will be most in need.
The goal is to help health chiefs model the consequences of moving resources to best tackle the coronavirus pandemic.
Source: BBC
© 2020, Our9Ja Trending News. All rights reserved. On republishing this post you must provide link to original post
Subscribe To Our WhatsApp Group For Latest News Directly To Your Mobile