COVID-19 UK will probably have to maintain some level of social distancing until coronavirus vaccine is available, Neil Ferguson, a  leading professor of mathematical biology at Imperial College London, has said.
"We will have to maintain some level of social distancing, a significant level of social distancing, probably indefinitely until we have a vaccine available," Professor Ferguson told BBC radio. 
Meanwhile, Health Secretary Matt Hancock said he did not want to "waste" the efforts of the public by lifting the lockdown measures too early, because coronavirus would "run rampant once again".
"I'm not going to pre-judge the formal decision that is going to be taken, however, I think everybody can see that we've been clear that we think that it is too early to make a change," he said.
"And whilst we have seen a flattening of the number of cases, and thankfully a flattening of the number of deaths, that hasn't started to come down yet, and as far as I'm concerned is still far too high."
Mr Hancock added: "I understand those who are calling for an end to the lockdown or some kind of exit strategy to start now, but I think it's just too early for that."
Mr Hancock also said he remains set on the goal of 100,000 coronavirus tests a day by the end of the month.
He said he is "certainly not taking my foot off the accelerator" when it comes to increasing testing.
Asked whether he knew a badge to recognise carers had been launched before, Mr Hancock said: "Yes, we were picking up the Care England logo and turning it into a national symbol of support for our care workers.
"And of course this comes alongside the increased delivery of PPE and increased testing."
Speaking on LBC radio, Mr Hancock added that the badge has "practical consequences as well", including care workers being able to attend priority shopping hours at supermarkets.
Questioned on reports that care home providers will have to buy badges for £1.20, Mr Hancock said: "I'm not aware… I'll look into that."
He added: "Well… OK, I'll look into it. But the thing is that most care providers are private sector organisations whereas the NHS is in the public sector and that sometimes explains some of these apparent differences…"
Mr Hancock continued: "I will absolutely look at that. But the point I was making is we pay for things differently through a contract in those parts of social care.
"So it's a technical difference as opposed to a real difference, but because of the symbolic difference of the badge, I will absolutely look at that point."
WWII veteran, 99, completes 100 laps of garden and raises more than £12m for NHS
Captain Tom Moore, a 99-year old British World War II veteran, has completed 100 laps of his garden, raising £12.2 million for the NHS.
Captain Moore was sponsored to complete 100 lengths of his 25-metre garden in time for his 100th birthday at the end of the month.
He originally planned to raise £1,000 for a National Health Service charity after receiving treatment for a broken hip and cancer.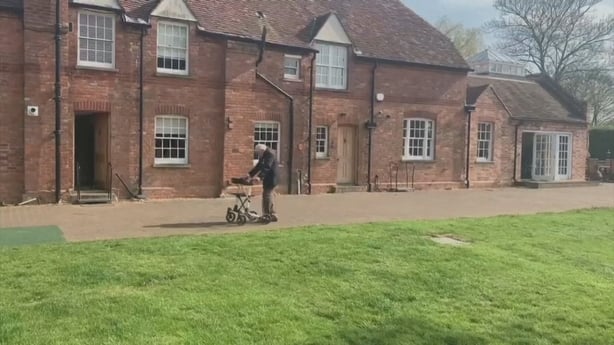 But he is now passed the £12m barrier.
After reaching his target, completed with a guard of honour from the 1st Battalion of the Yorkshire Regiment, Captain Moore said he felt "fine" and that he was glad to be "surrounded by the right sort of people",
"In the last war it was soldiers in uniform on the front line. This time our army are the doctors and nurses (in) uniforms," he told ITV's Good Morning Britain earlier this week.
https://our9ja.com/leronlimab-hiv-drug-treat-coronavirus-covid-19/ COVID-19 UK: To keep some social distancing COVID-19 UK: To keep some social distancingCOVID-19 UK: To keep some social distancing COVID-19 UK: To keep some social distancingCOVID-19 UK: To keep some social distancingCOVID-19 UK: To keep some social distancingCOVID-19 UK: To keep some social distancing COVID-19 UK: To keep some social distancing
© 2020, Our9Ja Trending News. All rights reserved. On republishing this post you must provide link to original post
Subscribe To Our WhatsApp Group For Latest News Directly To Your Mobile